FIRST EMBRAER PHENOM 100 IN CZECH REPUBLIC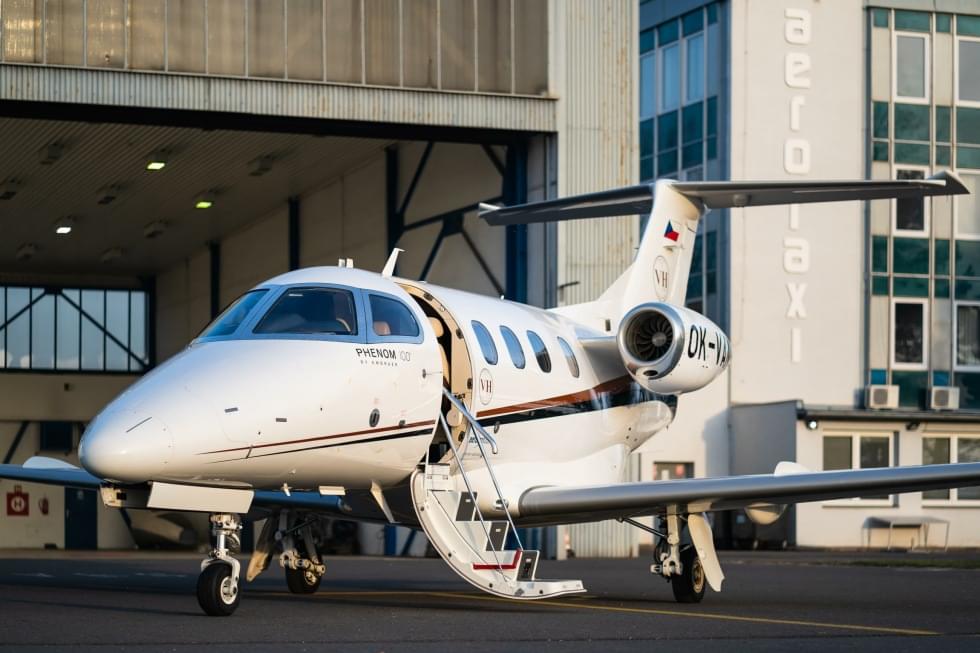 Phenom 100 is a big small jet, quite well known, but not very much used for private charter flights on Czech and Slovak market. There is a simple reason why. The closest home base of this aircraft type was in Wasaw in Poland, or Munich in Germany, which made the charter flights more expensive due to positioning flight costs. But since now, this has changed. Customers can now experience superb light jet comfort, but still at entry level jets costs. Phenom 100 is now home-based in Prague, offering air charter service of the latest modern jet in all aspects.

First time registered in Czech Republic
This is the very first time Phenom 100 is registered in Czech republic. After incorporating it into the AOC operational specification, it will be introduced to the charter market by Charter Advisory (sales representative) and Aerotaxi (aircraft operator) in close common cooperation. Phenom 100 (OK-VAN) was manufactured in 2010. During first quarter of 2016, it was in Sao Jose dos Campos in Brazil (Embraer factory), passing conversion updates to EASA requirements for commercial flights. After it passed detailed factory maintenace checks to ensure smooth air operations, there was a challenging delivery flight from Brazil to Prague needed. The flight took 8 days, and there were 11 fuel-stops needed. This small jet has limited range to fly long distance over water, therefore it had to fly the norhtern route via Greenland and Iceland. Since there were quite specific flight planning skills needed, ferry pilot Mr. Marcio Lucchese was hired to assist. He is very experienced ferry pilot, and by the time of OK-VAN delivery, this was his 24th ferry flight over the Arctic Ocean.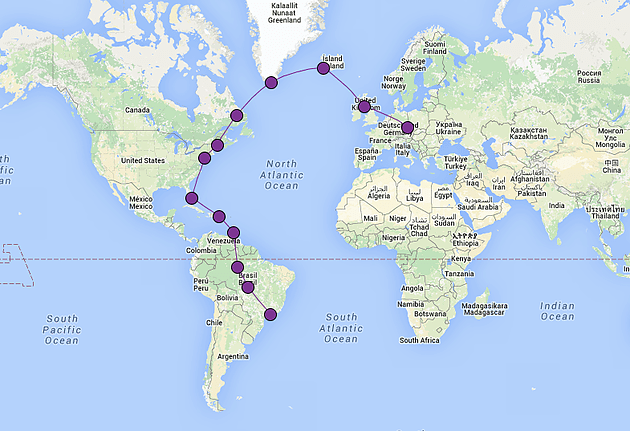 11 Fuel stops needed to fly the aircraft from Brazil to Czech Republic
What was the delivery flight like?


- Temperature difference between warmest and coldest airport nearly 50 degrees
- Overflight of the endless Amazonian forest (like flying over a green water ocean)
- Landing on a VFR airport in the middle of forest with storms arround
- Overnight right next to the Amazon river
- Day off in Caribbean paradise, and strange feeling, that we will be landing on snow next day
- Bad weather and diverted flight to airport stuck in time
- Landing on one of the 10 most challenging airports
- Fighting against time and unplanned overnight in frozen Greenland
- Route adjustments to find better airline connection back home for our ferry pilot Marcio
- Interesting fact, that there are only 2 Czech pilots with Embraer Phenom 100 type rating.
- Taxing though watergate to welcome new Phenom 100 in Prague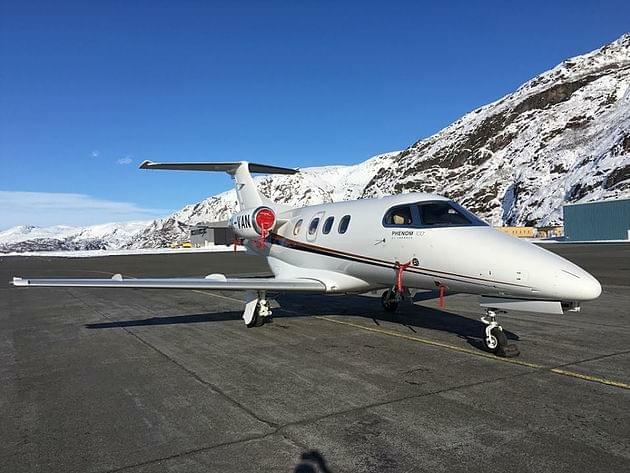 Embraer Phenom 100 during fuel stop in Narsarsaq in Greenland
First impressions directly from the captain of the aircraft describing why Phenom 100 is an outstanding jet:

"Right after boarding, Phenom 100 gives you feeling of a modern jet. The height and comfortable space is very untypical in this category of jets, you would not expect it. The door with stairs and railings gives you comfortable entrance and believe me, with my height I know what I'm talking about. It's not just the equivalent of a Cessna Mustang, even though they have one thing in common - comparable operating costs. Phenom 100 is a big-small airplane. "
Phenom 100 is the big-small plane, you'll fall in love with.
Why big?

Phenom 100 has in the category of light private jets a lot of tops:
- The highest and widest cabin for 4-5 passengers
- The largest luggage compartment
- The largest entrance door with full steps for representative entry
- Top quality interior design in cooperation with BMW
- The largest windows for great view and the space lighting
- The latest avionic to improve flight safety
- Full bathroom separated from cabin, with own window
Why small?

Because it flies at the costs of the smallest jets, while providing high comfort in the light jet category
With the new Phenom 100 you will get the best price-performance ratio for the short flights.
Learn more about technical parameters of Phenom 100.
Contact us anytime to get a competitive private flight quote.
[email protected] , +420 733 127 247
Book a private flight with Phenom 100